The attached document contains a customizable template for use in the distribution of information about Nixle to your communities.
School Outreach Flyer - English
[YOUR AGENCY NAME HERE] EMERGENCY ALERTING AND NOTIFICATION SYSTEM
Dear Parents,
The [Your Agency Name Here] wants you and your children to be safe and informed during emergencies in our area, both during and after school. These may include public safety threats, dangerous weather, and traffic advisories. Information is key, and we strongly encourage you to sign up to receive text message alerts directly from [Your Agency Name Here].
Registering for alerts is easy — simply text your Zip Code to 888777 and you'll be informed and instructed when necessary.
School Outreach Flyer - Spanish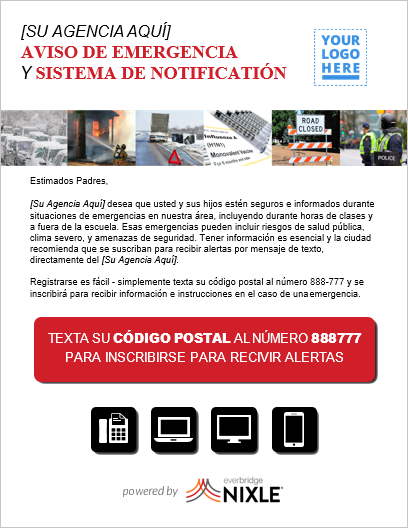 [SU AGENCIA AQUÍ] AVISO DE EMERGENCIA Y SISTEMA DE NOTIFICATIÓN
Estimados Padres,
[Su Agencia Aquí] desea que usted y sus hijos estén seguros e informados durante situaciones de emergencias en nuestra área, incluyendo durante horas de clases y a fuera de la escuela. Esas emergencias pueden incluir riesgos de salud pública, clima severo, y amenazas de seguridad. Tener información es esencial y la ciudad recomienda que se suscriban para recibir alertas por mensaje de texto, directamente del [Su Agencia Aquí].
Registrarse es fácil - simplemente texta su código postal al número 888-777 y se inscribirá para recibir información e instrucciones en el caso de una emergencia.