Topic:
Working with Telco Providers
Description:
Requesting 911 Data:
If you would like to have the ability to contact your constituents via landline in the event of an emergency, you will need to secure the listed and unlisted phone numbers from your Telephone Company(ies)/Provider(s). This is often referred to as 911 data.

Preferred Format:
This data should be provided in NENA-2.1 512 Byte Format.Please see below for details.
NENA-2.1 512 Byte Format includes Function Code, Name, Street Address, State, and Telephone Number (TN).Variable data fields, such as Header, Pilot Number (PN), Class of Service (COS), Type of Service (TOS) and Updates – Inserts and Deletes may be included.
TelCo Data in NENA 2.1 512 Byte Format may not include Postal Code, City name, State, Country or Latitude/Longitude. This will result in variances in Geo-Coding accuracy. Always request all data fields from your TelCo Provider.
If NENA-2.1 512 Byte Format is not available, please provide a comma separated or tab delimited text file containing, at a minimum, the following fields: Name, Street Address, State, and Telephone Number (TN). If data is not in NENA format, please provide a Data Dictionary from your data provider which details what each field represents.
The fields included in the NENA specification are shown below.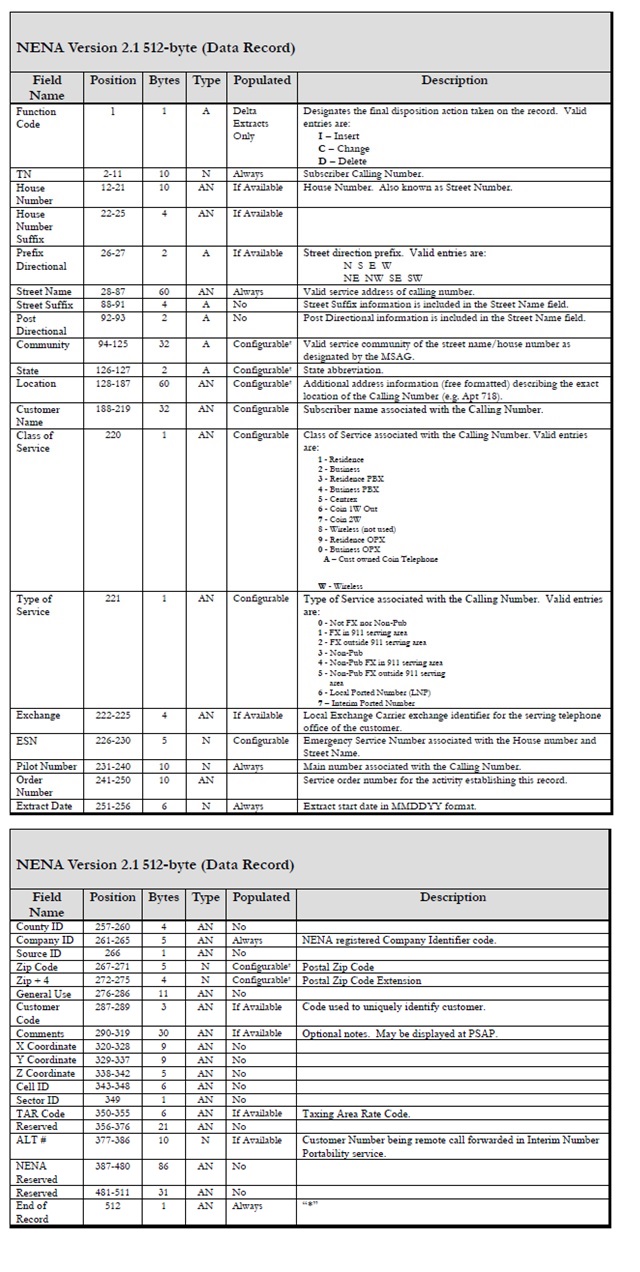 Voice Throttling Considerations:
Please ask your Telco provider to provide you with the maximum number of incoming long-distance calls that they can handle, per exchange. Inform them that you may be making a very high quantity of phone calls to their exchanges at the same time and that you need to understand their limits so that you can put rules in place to avoid overloading their system.
Example: Community X:
Community X includes the area code 999. Exchanges within the community include 555, 111, and 333. The telephone provider may recommend that you initiate no more than 250 calls simultaneously to the 111 exchange. In this case, we will establish a voice throttling threshold of roughly 60-80% of 250 for that dial pattern.
If there are no specific recommendations, you will need to either test your system (or send a live notification) and analyze the results that come back to you. If you are a Nixle customer, please contact Nixle Support to request the report results. In reviewing the report, you'll be able to see where the pinch-points are and can make some assumptions about what throttling rules you should put in place.