Question:
How can I limit my message audience to residents within a given distance of an address?
Why are messages being sent to residents outside of my agency's ZIP codes?
Answer:
NOTE:
As of March 24, 2016, the point and radius feature will no longer select ZIP codes outside of your agency's configured area, so there will no longer be a risk of sending messages outside of your agency's jurisdiction.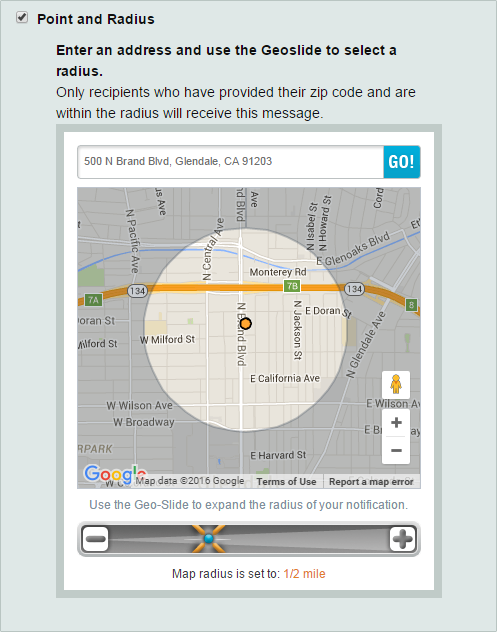 When sending a Nixle message, use the Point and Radius option within the Geographic Filtering section to include recipients by defining a radius from a specified address. To set a point and radius, follow these steps:
Enter the address that is the focal point for the radius in the text field and choose the GO! button.
Confirm the address and choose the Apply button from the confirmation menu.
Use the and buttons to set the radius from the center point for selecting recipients.

You can also click and drag the button to set the radius.
The radius has a maximum setting of ten miles

Your message will be sent to any resident subscribed to your agency if their ZIP code on file is within the point and radius range selected.