The attached document contains a customizable template for use in the distribution of information about Nixle to your communities.
School Outreach Flyer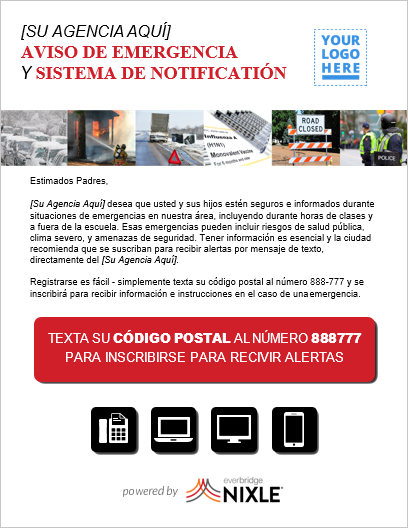 [SU AGENCIA AQUÍ] AVISO DE EMERGENCIA Y SISTEMA DE NOTIFICATIÓN
Estimados Padres,
[Su Agencia Aquí] desea que usted y sus hijos estén seguros e informados durante situaciones de emergencias en nuestra área, incluyendo durante horas de clases y a fuera de la escuela. Esas emergencias pueden incluir riesgos de salud pública, clima severo, y amenazas de seguridad. Tener información es esencial y la ciudad recomienda que se suscriban para recibir alertas por mensaje de texto, directamente del [Su Agencia Aquí].
Registrarse es fácil - simplemente texta su código postal al número 888-777 y se inscribirá para recibir información e instrucciones en el caso de una emergencia.