The attached document contains a customizable template for use in the distribution of information about Nixle SmartPath to your communities.
SmartPath Email Template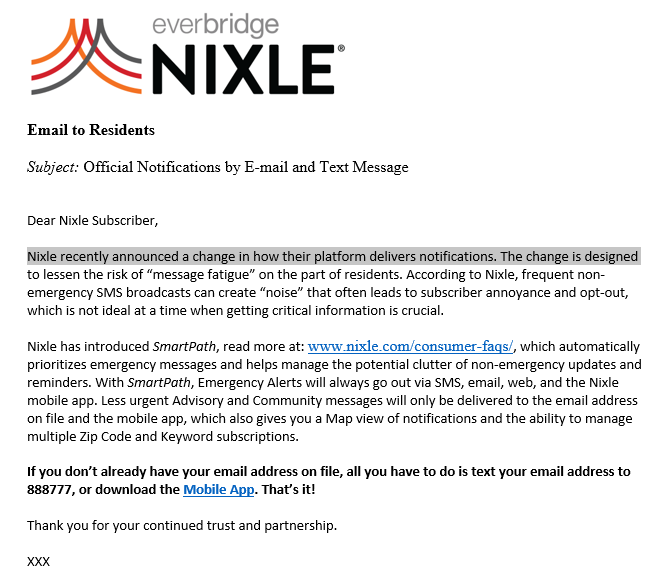 Dear Nixle Subscriber,
Nixle recently announced a change in how their platform delivers notifications. The change is designed to lessen the risk of "message fatigue" on the part of residents. According to Nixle, frequent non-emergency SMS broadcasts can create "noise" that often leads to subscriber annoyance and opt-out, which is not ideal at a time when getting critical information is crucial.
Nixle has introduced SmartPath, read more at: www.nixle.com/consumer-faqs/, which automatically prioritizes emergency messages and helps manage the potential clutter of non-emergency updates and reminders. With SmartPath, Emergency Alerts will always go out via SMS, email, web, and the Nixle mobile app. Less urgent Advisory and Community messages will only be delivered to the email address on file and the mobile app, which also gives you a Map view of notifications and the ability to manage multiple Zip Code and Keyword subscriptions.
If you don't already have your email address on file, all you have to do is text your email address to 888777, or download the Mobile App. That's it!
Thank you for your continued trust and partnership.